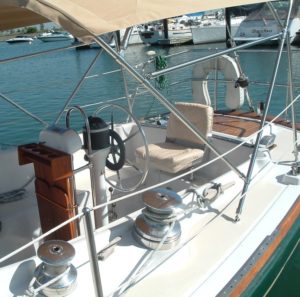 With 10 boats ranging from 27 to 42 ft., we have a boat for every sailor, experience level and a plan for every budget (season-long packages range from $1,850 to $4,250).
Is the lease all inclusive?
Yes, your lease includes everything: fueling, cleaning, instruction, insurance, etc. You do have to buy your own rum, sadly.
Are there any other costs?
If you want to share a lease among a group of friends there is a $350 fee to split a share among up to three people. This would allow you to book sails individually and sail independently of each other (if you are always going to sail together, there is no need to split the lease.)
Is there a damage deposit?
Yes, you are responsible for any damage caused on the boat under your watch. Your liability, however, caps out at $1,000 (our insurance deductible). This is the most you would have to pay if you were in an accident. We ask for half of this as a security deposit, refundable at the end of the season.